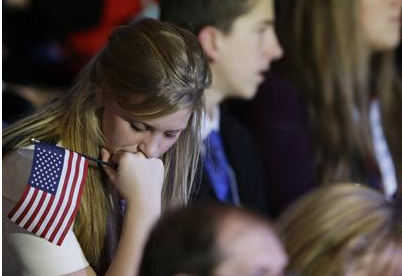 It's crucial for our own personal growth and development to be able to step outside ourselves, our own perspectives, and experience the world through the eyes of those who see it differently. Seeing and understanding through the lens of others – especially those with whom we disagree — builds empathy and compassion. And that's vital for strengthening that which is shared, and for working towards common goals – beyond differences. Bill Clinton is a master at conveying understanding to those who feel scared and angry about changes occurring in our country. And Eli Saslow's recent portrayal of the disappointment felt by Romney supporters in the Washington Post does a good job at that, as well. He writes:
She arrived early to take apart the campaign office piece by piece, just as she felt so many other things about her life were being dismantled. Beth Cox wore a Mitt Romney T-shirt, a cross around her neck and fresh eyeliner, even though she had been crying on and off and knew her makeup was likely to run….Her calendar read "Victory Day!!" and she had planned to celebrate in the office by hosting a dance party and selling Romney souvenirs. But instead she was packing those souvenirs into boxes…Here in the heart of Red America, Cox and many others spent last week grieving not only for themselves and their candidate but also for a country they now believe has gone wildly off track.
For the complete article, click here.