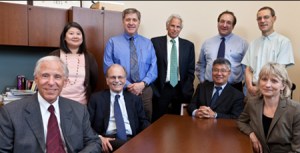 Who are the people in senior leadership roles today? An interesting report by Jena McGregor in the Washington Post sheds light on this. She summarizes the findings of a new study, published by the Harvard Business School, of Fortune 100 executives. It finds that the majority of senior executives were educated at state universities, not at the elite schools. Nearly 11 percent are foreign born. And while women still deal with the glass ceiling, they have a more rapid rise to the top ranks, today.
I think these findings have potentially significant implications for corporate cultures. For example, what will be the impact on outlook, vision, and management perspectives from ever-increasing numbers of ever-increasing diverse people? Moreover, what will emerge from this rising diversity of executive leaders in conjunction with a growing shift in worker's orientations to the job, to what they look for from management, and to what they define as "success?" There are several moving parts.
The study was conducted by researchers from Penn's Wharton School and from the IE Business School in Madrid. For McGregor's article, click here. For the full report in the Harvard Business Review, click here.