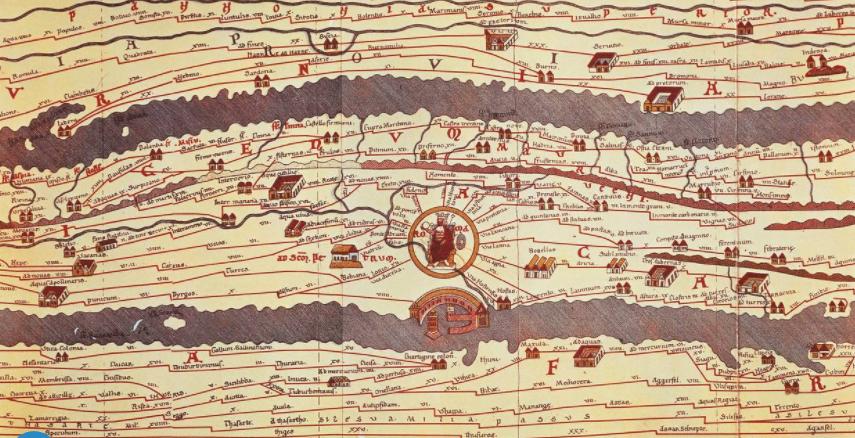 Part of the Tabula Peutingeriana, a 13th-century copy of an ancient road map, with Rome at center.
February 7, 2017
In this age of growing nationalistic reaction to globalization and the effects of international trade upon nations, it's good to step back and gain a broader historical perspective about mutual influences that have occurred from antiquity. This new book by Michael Scott, Ancient Worlds: A Global History of Antiquity, provides that needed perspective. And it reminds us that interconnection and interdependence has always existed throughout history, but has become a daily, living reality in our global community.
Reviewed in The Wall Street Journal by Peter Thonemann, Scott's book presents an illuminating and fascinating exploration of the multitude of connections and communications between Eastern and Western societies — long before the Silk Road: "From Carthage and Rome through Iran and Afghanistan to Xiaanyang and the Ganges basin."
In his review, Thonemann writes:
Three and a half thousand miles east of Athens, near the modern city of Bhopal in central India, stands a brown sandstone pillar, 21 feet tall. Carved into its surface is a seven-line Prakrit-language inscription from the late second century B.C., giving us a fleeting glimpse into a life of unimaginable strangeness and wonder. "This Garuda-pillar of Vasudeva, the god of gods, was constructed here by Heliodoros the devotee, son of Dion, of Taxila, the Greek ambassador who came from the Great King Antialkidas to King Kasiputra Bhagabhadra, the Savior, prospering in his fourteenth regnal year."
Heliodoros the Greek ambassador: what a person to find in central India! We are all too accustomed to think of ancient history as the history of Greece and Rome, with Europe and the Mediterranean at its center. But as Michael Scott reminds us in his sweeping "Ancient Worlds: A Global History of Antiquity," the Greco-Roman world formed only a small part of a vast, interconnected network of highly sophisticated and literate Old World cultures, stretching from Carthage and Rome in the west through Iran and Afghanistan to Xianyang and the Ganges basin in the east.
These far-flung societies engaged in a long, slow-moving conversation with one another. The pillar of Heliodoros shows us a Greek from northern Pakistan proudly proclaiming his status as a "devotee" of the Indian god Vasudeva-Krishna. A century earlier, the Indian king Ashoka had placed a long inscription at the Greek city of Alexandria in Arachosia (modern Kandahar, Afghanistan), proclaiming his Buddhist faith in immaculate Hellenistic Greek prose; a century later, 120 merchant ships were sailing from Roman ports on the Red Sea to the Indian subcontinent each year. Mr. Scott's book is an ambitious attempt to evoke this "big" ancient world, from the sixth century B.C. to the fourth century A.D. Continue reading →