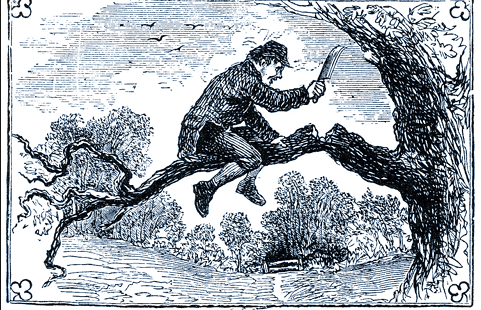 December 9, 2014
Although I am a man, I'm also a believer in scientific truth. Therefore, I am obligated to report this interesting study, winner of the Darwin Award, regarding sex differences in idiotic behavior. Researchers tested "male idiot theory" (MIT): That many of the differences in risk-seeking behavior may be explained by the observation that men are idiots and idiots do stupid things.
The research, reported in the British Medical Journal, reviewed data on idiotic behaviors, as demonstrated by winners of the Darwin Award over a 20 year period, and they noted the sex of the winner. Worthy candidates include a man stealing a ride home by hitching a shopping trolley to the back of a train, only to be dragged two miles to his death before the train was able to stop; and the terrorist who posted a letter bomb with insufficient postage stamps and who, on its return, unthinkingly opened his own letter.
Males made up 88.7% of Darwin Award winners, and this sex difference is highly statistically significant, say the authors. They report that this finding is entirely consistent with male idiot theory (MIT) and supports the hypothesis that men are idiots and idiots do stupid things.
However, this study has limitations, add the authors. For example, women may be more likely to nominate men for a Darwin Award or the sex difference may reflect differences in alcohol use between men and women. Despite this, it is puzzling that males are willing to take such unnecessary risks — simply as a rite of passage, in pursuit of male social esteem, or solely in exchange for "bragging rights," say the authors.
They believe male idiot theory deserves further investigation, and, "with the festive season upon us, we intend to follow up with observational field studies and an experimental study — males and females, with and without alcohol — in a semi-naturalistic Christmas party setting," they conclude.
Image credit: spurgeon.org/images/wg081.gif