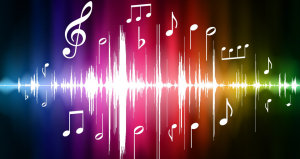 If you've ever found that listening to music elevates your mood, you're right. New research found that feelings of happiness increased when participants in the study listened to upbeat music, and were asked to focus on lifting their mood. A related study demonstrated that listening to happy or sad music can also change how you perceive the world. While these studies show the positive impact music has upon your mental and emotional state, they also underscore the capacity we have to alter our inner experience through conscious effort and focus — as recent research on meditation and brain function has demonstrated.
In the first study, reported in the Journal of Positive Psychology, researchers at the University of Missouri found that "Our work provides support for what many people already do — listen to music to improve their moods," according to lead author Yuna Ferguson. "Although pursuing personal happiness may be thought of as a self-centered venture, research suggests that happiness relates to a higher probability of socially beneficial behavior, better physical health, higher income and greater relationship satisfaction." In two studies by Ferguson, participants successfully improved their moods in the short term and boosted their overall happiness over a two week period. The study's co-author, Kennon Sheldon, added that the research "…suggests that we can intentionally seek to make mental changes leading to new positive experiences of life." This study is summarized in Science Daily.
The other study, conducted by researchers at the University of Groningen, found that music is not only able to affect your mood — listening to particularly happy or sad music can even change the way we perceive the world. That is, music and mood are closely interrelated. Listening to a sad or happy song on the radio can make you feel more sad or happy. However, such mood changes also change your perception. For example, people will recognize happy faces if they are feeling happy themselves. The researchers had their test subjects perform a task in which they had to identify happy and sad smileys while listening to happy or sad music. Music turned out to have a great influence on what the subjects saw: smileys that matched the music were identified much more accurately. And even when no smiley at all was shown, the subjects often thought they recognized a happy smiley when listening to happy music and a sad one when listening to sad music.
Researchers reported that "…Your brain continuously compares the information that comes in through your eyes with what it expects on the basis of what you know about the world. The final result of this comparison process is what we eventually experience as reality. Our research results suggest that the brain builds up expectations not just on the basis of experience but on your mood as well." This study is summarized in Science Daily.