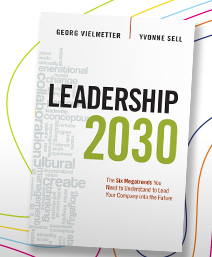 A fascinating study by the Hay Group and German futurists at Z-Punkt identifies six trends that their research indicates will shape leadership needs in the years ahead.
I think their findings about leadership needs are very consistent with an ongoing, significant evolution in all sectors of society and in individual lives today, towards heightened collaboration, connection, emotional attunement to others, interdependency and diversity.
The report, Leadership 2030, speaks of the rise of the "altorocentric" leader: In a Washington Post interview by Jena McGregor, Georg Vielmetter of the Hay Group, explains that "Altrocentric" means "…focusing on others. Such a leader doesn't put himself at the very center. He knows he needs to listen to other people. He knows he needs to be intellectually curious and emotionally open. He knows that he needs empathy to do the job, not just in order to be a good person." And, "…leaders in the future need to have a full understanding, and also an emotional understanding, of diversity."
Vielmetter points out that "…positional power and hierarchical power will become smaller. Power will shift to stakeholders, reducing the authority of the people who are supposed to lead the organization." Perhaps most significantly, "The time of the alpha male — of the dominant, typically male leader who knows everything, who gives direction to everybody and sets the pace, whom everybody follows because this person is so smart and intelligent and clever — this time is over. We need a new kind of leader who focuses much more on relationships and understands that leadership is not about himself."
Regarding the younger generation, he adds that, "With the Baby Boomer generation, you understood you climb up the ladder and you're the boss at the end. The new generation has less and less interest to do this….for them it's just not so important to become the boss. That causes a big problem for organizations. They offer people big jobs, and they don't want them. They value their private life more."
For McGregor's full interview with Vielmetter, click here.