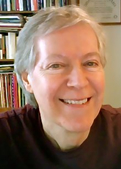 Douglas LaBier, Ph.D., a business psychologist and psychoanalytic psychotherapist; and director of the Center for Progressive Development, writes and edits Progressive Impact. Posted here are his original essays, relevant research findings, and occasional guest posts that present new thinking about psychologically healthy living — including internal wellbeing, outward success and implications for public policy — in our rapidly evolving, interconnected 21st Century world. He can be contacted at dlabier@CenterProgressive.org
The blog grows from the work of the Center for Progressive Development and Dr. LaBier's focus on the interplay between personal development and the management culture of today's changing workplace. The Center is a nonprofit organization that promotes human development in the workplace and in personal lives, in the context of today's highly interconnected, interdependent world.
Over the years, Dr. LaBier has focused on ways to recognize and resolve the mixture of personal and organizational conflicts that undermine effective leadership, a healthy work culture, personal relationships and overall psychological health. He consults to senior executives and senior management teams on building effective leadership and positive management practices. His executive coaching for individual executives helps them create greater alignment between their personal values and development, on the one hand; and effective leadership behavior, on the other. Dr. LaBier believes that integrating these is the underpinning of a management culture that supports learning, development, collaboration and commitment – all necessary for dealing with the need for sustainable practices, and for moving towards a new business model that combines financial success with serving the common good.
In his psychotherapy practice, Dr. LaBier helps individuals and couples resolve emotional conflicts that impact their personal life goals, relationships and careers. He helps them develop emotional resiliency and growth that is relevant to life within today's turbulent, unpredictable environment; and helps them find pathways to greater integration and sense of "evolution" in their lives.
Dr. LaBier's work over the decades grew from his efforts to identify the hidden links between success in our career culture and emotional conflict, which he first wrote about in his highly acclaimed book, Modern Madness. A pioneering examination of how work and career within large organizations affect the potential for emotional and values conflict, it was cited by Daniel Goleman in The New York Times as "In the vanguard…offering sobering insights into the costs of modern success." it explained why personal and career-related conflicts are often caused, paradoxically, by successful adaptation to the roles, pressures, and culture within organizations and careers.
Dr. LaBier is the author of over 100 articles and book chapters on career, relationship and life development issues for professional journals and the popular press, including The Washington Post, The Huffington Post, Psychology Today, and others. He has been interviewed and quoted in features appearing in The Washington Post, The New York Times, Fortune, The Huffington Post, and others. His work has been the subject of frequent coverage by national print and broadcast media, and he has been a frequent guest on TV and radio shows over the years, including the Today show, NBC Nightly News, ABC's Good Morning America, CBS Morning News, CNN, FOX; NPR, PBS, BBC America, and others.
His speaking engagements and workshops include such topics as: integrating career success, personal life goals, and internal well-being; emotional resilience in a turbulent world; midlife development; and building a positive management culture.
Dr. LaBier is a clinical professor at The George Washington University; has been a faculty member of the Washington School of Psychiatry, and has served as a Fellow of the Research Council of Healthy Companies, a nonprofit organization supported by the MacArthur Foundation.
Dr. LaBier is currently working on a new book project about the rise of an orientation among men and women towards integrating careers, personal life goals, and serving the common good. In it, he explains why this new orientation redefines psychological healthy living and emotional resiliency within today's post-globalized, interconnected world.
A native of upstate New York, he's lived in Washington, DC for decades — but still loves New England and New York's Hudson Valley.