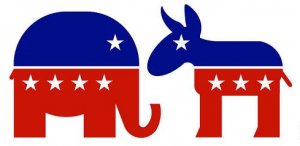 Writing in the New York Times, Harvard economist N. Gregory Mankiw, who served as chairman of the Council of Economic Advisers under President George W. Bush, praised his former student Jason Furman, recently appointed by President Obama to the same position. Mankiw points out that "In Washington these days, comity between Republicans and Democrats is rare. Yet my relationship with Jason has never been hampered by our differing political affiliations."
While pointing out their political differences, Mankiw offers a description of how two people can come from a similar base of intellectual knowledge and tradition, and yet end up aligned with different political parties — while respecting and valuing each other's point of view.
Mankiw provides three ways in which differing perspectives can lead to a more left-oriented vs. a right-oriented political position. His commentary is a clear, concise portrayal of how people's sensibilities, values and perhaps temperament can lead to different positions. He writes:
"…I doubt that there is a simple answer. So let me suggest three.
Arthur M. Okun, who served under President Lyndon B. Johnson as chairman of the Council of Economic Advisers, wrote that the big trade-off faced by society is between equality and efficiency. We can redistribute income to give everyone a more equal slice of the economic pie, but as we do so we blunt work incentives and the economic pie shrinks, he said. From this perspective, the Democrats are the party of more equality, and the Republicans are the party of more efficiency.
Another view is that the important tradeoff is between community and liberty. As members of society, we have goals we want to achieve with others. But as we reach those shared goals, we are asked to sacrifice some personal freedoms. From this perspective, the Democrats are the party that emphasizes communal values, and the Republicans are the party that emphasizes individual liberty.
Finally, there is the issue of how much one trusts centralized governmental power. Democrats tend to want to expand the scope of the federal government to improve the lives of the citizenry, while Republicans are more fearful that centralized power leads to abuse and lack of accountability."
Mankiw concludes with the example of differences regarding health care reform, pointing out that " Jason saw it as a proper expansion of government's role to promote the community value that everyone should have access to affordable health insurance. I saw it as a risky expansion of government's power that reduces individual freedom, dulls incentives and will likely lead to a host of unintended consequences."
It's so unfortunate that elected officials appear unable or unwilling to recognize and respect different perspectives regarding the significant issues our country faces today, while working towards jointly crafted solutions.