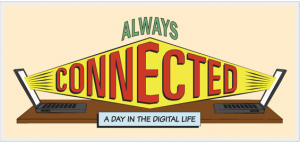 This article, by AP writer Martha Irvine, highlights an issue worth deeper exploration: the simultaneous upside and downside of being always wired. Especially its impact on both well-being and a sense of interconnection, of community. The latter is visible during Hurricane Sandy's impact on our lives.
When was the last time you were alone, and unwired? Really, truly by yourself. Just you and your thoughts — no cellphone, no tablet, no laptop. Many of us crave that kind of solitude, though in an increasingly wired world, it's a rare commodity. We check texts and emails, and update our online status, at any hour — when we're lying in bed or sitting at stop lights or on trains. Sometimes, we even do so when we're on the toilet.
We feel obligated, yes. But we're also fascinated with this connectedness, constantly tinkering and checking in — an obsession that's starting to get pushback from a small but growing legion of tech users who are feeling the need to unplug and get away.
"What might have felt like an obligation at first has become an addiction. It's almost as if we don't know how to be alone, or we are afraid of what we'll find when we are alone with ourselves," says Camille Preston, a tech and communication consultant based in Cambridge, Mass.
"It's easier to keep doing, than it is to be in stillness."
One could argue that, in this economy, Continue reading →