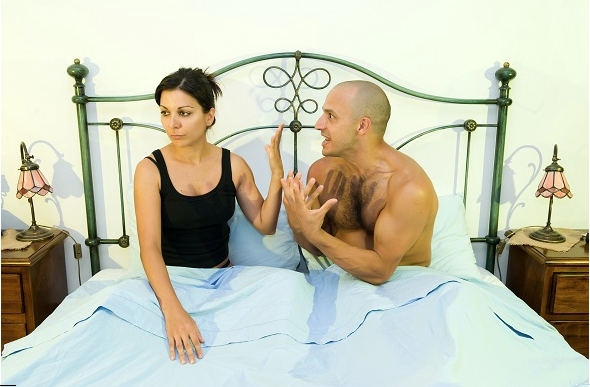 August 26, 2014
"Of course, we fight!" John said, "All couples do; that's normal!" He looked at me incredulously, as Mary quickly added with a tight smile, "But then we have 'make-up sex. And that makes things better." Nevertheless, they sought therapy over their concern about the long-term impact of this "normal" pattern.
Perhaps you share John and Mary's experience views. Many do. But the sex lives and relationships of couples today often descend over time into diminishing sexual excitement and passion; and increasing boredom and routine. Call it "marital sex," in contrast to what couples often experience at the beginning of their relationship. In "marital sex" you're bringing into the bedroom all the other parts of your relationship – the logistics, disagreements over finances or even over trivial things, like where to place the furniture or where to vacation. Or parenting challenges, which become a large part of any couples' relationship. And aside from your relationship and family issues, each of you have your own, individual concerns – about your career, perhaps your own aging parents, or sibling relationship issues ("I don't want us giving money to your dysfunctional sister!")
Couples often assume that fighting and conflict are inevitable – "normal," even, to be tolerated and managed, at best. They may not recognize that their diminished sexual and romantic life is interwoven with how and why they conflict as they do in their relationship overall. Then, they may focus on ways to re-energize their sex life, as though it's disconnected from the rest of their relationship; and as though that will compensate for their relationship conflicts.
There's a huge marketplace for that: Volumes of books and articles; websites like Your Tango, all of which offer ever-"new" techniques purporting to bring back passion and better orgasms. Of course, if they worked, there wouldn't be an endless stream of them. This disconnect between what people want and what they do is visible, for example, in a recent survey of women who go to Ashley Madison in search of an affair. It found that most were looking for more sexual excitement, but they also wanted to keep their relationship with their partners.
Why Fighting Is Destructive
Most couples who seek help for their relationship conflicts want to stay together but often assume that they need to accept a slow downhill slide; inevitable conflict and fighting. And that if they can just learn how to manage it better, things will be fine; as "good as it gets," perhaps. But they're wrong. Emotional and physical damage accrues from how couples relate to each other while dealing with conflict and disagreement. And that has direct bearing on their emotional sexual intimacy.
Think of fighting as different from Continue reading →