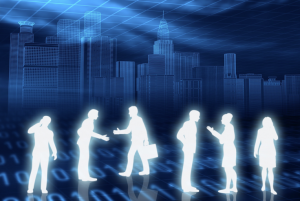 The Virgin Group founder and business visionary Richard Branson provides some interesting and — in my view — valuable perspectives about the importance of building connections, both in business and in life. He highlights a theme that I think is part of a psychologically and socially healthy life in today's fluid world. In Entrepreneur, Branson writes, "To achieve your goals, you need to be on the lookout for the opportunity to make connections wherever you go. Welcome chance encounters and opportunities to dream up outlandish plans. The person with the skill set you need to get your new business idea off the ground may be sitting at the next table in the cafe. Go over and say hello."
In his full article Branson writes:
I love bumping into people and finding out who they are and what they're working on. You never know who you're going to meet. Such encounters can be valuable: If you think about how your most important relationships began — with business partners, your spouse, with friends and mentors — the stories will almost all involve chance meetings. My curiosity about others and ability to connect with people have helped me to succeed — after all, if people don't know who you are, they are not going to do business with you.
Many people think that an entrepreneur is someone who operates alone, overcoming challenges and bringing his idea to market through sheer force of personality. This is completely inaccurate. Few entrepreneurs — scratch that: almost no one — ever achieved anything worthwhile without help. To be successful in business, you need to connect and collaborate and delegate.
Finding ways to meet with people in the real world and build business relationships is becoming ever more important in the digital age. Read more…
Posted in: Business, Psychological health in a post-globalized world, Work & Career "4.0"